—
Is this your first stop on the historical scavenger hunt? To learn more about how to play along, visit the introduction page and then come back here. If you get stuck along the way, message us on Facebook and we'll send you a hint.
—
Japanese settlers first came to the Raymond area in 1904 to satisfy a need for labour in the sugar beet fields. Some came temporarily and left, but many chose to stay and make a home in the community. In 1929 a group of Japanese Raymondites representing the Jodo Shinshu Buddhist faith purchased a building to be used as a temple, school and meeting place from The Church of Jesus Christ of Latter-day Saints.
The building had originally been built as a schoolhouse in 1902. The Japanese community grew dramatically in Raymond when the Canadian government forcefully removed Japanese Canadians from coastal British Columbia during the Second World War. This building became the centre of the Japanese community in Raymond.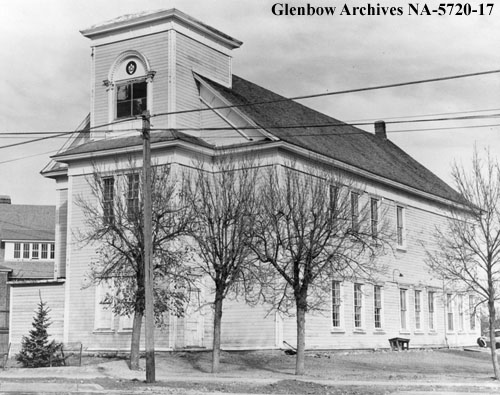 To find the location, count how many windows you can see on the Buddhist Church in this photo from 1960, subtract 3, (the address is on Broadway South). When you arrive, stop at the sign in front. To find the next clue, consider that the LDS church LEFT this building for a new home nearby. Look there.
For your final clue:

Collect segments of the final password and puzzle at each stop. You'll need the password to get into the puzzle. The order is important for both. The 3rd segment of the final password is the last number in the year this building was built, 1902.

You'll probably want to write these items down:
Order: 3
Password: 2

Have you collected 11 segments of the final password? Enter the final password now.